Herengracht 255, 1016 BJ, Amsterdam
Welcome to The Hoxton, Amsterdam. It's great to have you in the house and we hope that you enjoy your stay with us whatever the reason for your visit.
To make sure you get the most out of your trip, we've put together this handy Survival Guide containing all kinds of bits and bobs that you might need.
From getting around town to getting those creases out of your dinner shirt. It's all here, laid out nice and easy.
We want you to have the best stay possible, so if you need anything day or night, just dial 81 on the phone next to your bed.

The building of Amsterdam
These very walls date back to the early 17th Century, and played an important role in the city's history when the Mayor of Amsterdam once lived here. Made up of 5 canal houses, the building is full of quirks and unique corners, with all the original facades still intact. Fruity and Floral, our concept rooms on the ground floor were where the Mayor once resided and have been designed to reflect his grandeur, whilst the courtyard in The Apartment has been created around the building's original listed courtyard.

We're lucky enough to have canals on both sides of The Hox. The Herengracht is often considered the most important canal in the city; Amsterdam's richest merchants and most influential well-to-dos used to live right the way up it. Then there's the Singel which was originally a moat around the city until it expanded beyond it in 1585.


The Little Breakfast
As they say, it's the most important meal of the day! We'll deliver a daily breakfast bag to each and every room for just €5 per person. All you have to do is fill out the bag on the desk, pop it on the hook outside your room, and it will be waiting for you in the morning with a little something to help you start your day off right.
For something a bit heartier, check out Lotti's.

IN THE MOOD FOR FOOD?
Lotti's
Lotti's, our lively neighbourhood restaurant, features internationally inspired, brasserie-style dishes created with locally sourced ingredients, served up from an open kitchen all day long – and yes, bitterballen are on the bar menu. Whether you're up for breakfast, a little later for brunch, or fancy a feast at any time of day, we've got it covered.
If you are feeling a little lazy, you can order Room Service.
Dining in? Make sure to make a reservation to secure a seat.
Opening Hours
Sun to Wed: 7am-midnight
Thu to Sat: 7am-1am
Kitchen closes at 10pm
Room service
Drinks – Daily 7am-midnight
Food – Daily 7am – 10pm

Hox Shop
Swing by our Hox Shop in the lobby where you can buy snacks and drinks at supermarket prices; Blank body products; or a Hox tote bag to carry your stuff through the city.

Rip-off-free fridge
No nasty bills at check-out here, we give you a rip-off-free mini-fridge stocked with fresh milk and water. What's more, you can fill your fridge with savoury and sweet snacks from our Hox Shop at supermarket prices.
Dam Square is less than a five minute walk away. Make a right once you've exited the hotel, then another right, and you'll be on the trams in no time. There's also a metro station closeby on the Rokin.
Amsterdam Central is also only fifteen minutes away on foot, and will get you on trains to Schiphol, Rotterdam, Utrecht and more.
Our Reception can call up a taxi for you in just the push of a button.

We've got a few Hox bikes for you to use – for free – during your stay. The team at Reception will give you the low down. If they're all out on a roll we can advise you to a nearby bike shop.
Let us be your local guide to the neighbourhood. Find our Little Map in your desk or stop by at the Takeaway Tips board next to the elevator on the ground floor. 
Everyone loves a tidy room but if you don't require housekeeping service or a towel change daily, let us know and will keep that in mind. By skipping your towel change we can save on water and transportation. Want to find out what we are doing for a better planet? Check out our Environmental Policy Statement and keep an eye out on our socials as we are about to launch The Good Stuff.
It goes without saying, WiFi is free for all guests at The Hox. And if you'd like to make a good ol' fashioned landline call, your first hour is free per day to pretty much anywhere except the moon.
Read all about it! You can find local news, magazines and podcasts on this link to make sure you're up to date on what's going on in the world. Just make sure you are connected to the guest wifi to access.
Dial 81 for Reception and we'll bring an ice bucket right up.
Refill your bottle with confidence – tap water is safe to drink in Amsterdam. Thirsty but no bottle available? Head to the fridge for sustainable water cartons.
Dial 81 on your phone and we'll bring an iron, board and steamers straight up to your room. Simple.

For the Gym Bunny there's no shortage of great gyms and cool studios around us. Hit up Reception to get discounted day passes to our favourites. Or why not grab your kicks and head out for a run along the canals? To Vondelpark and back is a good 5km loop and our team can guide you so you don't get lost!


Get out of bed you sleepy head
You get to choose your own check-in & check-out time for free with Flexy Time, which is available to anyone who books directly on our website up to 72 hours in advance. Otherwise, regular hotel check-out is 12pm.
Need a lie-in?
No problem, just let us know and you can stay for the bargain price for €10 an hour, up to 3pm (availability dependent). Of course, if you booked directly, you can check-out whenever you please with Flexy Time!

The great escape
If you're in a rush, fill out your details on the key card and pop it in the post box in the lobby and we will email you a copy of your bill before you get home.

Planning a party?
The Apartment on the ground floor is a meetings and events space like no other. Each room is set up like a home away from home around a central Pantry Kitchen filled with treats to help yourself to. By day it can host meetings of all sizes and by night, and is a great venue for when you want to host a cocktail or dinner party.
Whatever the occasion, we'll have the perfect space. Just ask Reception for more details on how to book them or email events.amsterdam@thehox.com.

Dis-loyalty pays
Introducing Dis-loyalty, the travel & food membership programme rewarding adventure with hefty discounts. We're talking HALF-PRICE rooms at just-opened hotels, 20% off when you stay somewhere new, and some pretty stellar food and drink perks (hello free coffee every day and 10% off your bill at Lotti's). At £12/15€/$18 a month with more than 75 participating hotels and 150+ restaurants and bars across 10 brands (including The Hox), we can't lie: it's pretty fruitful to play the field.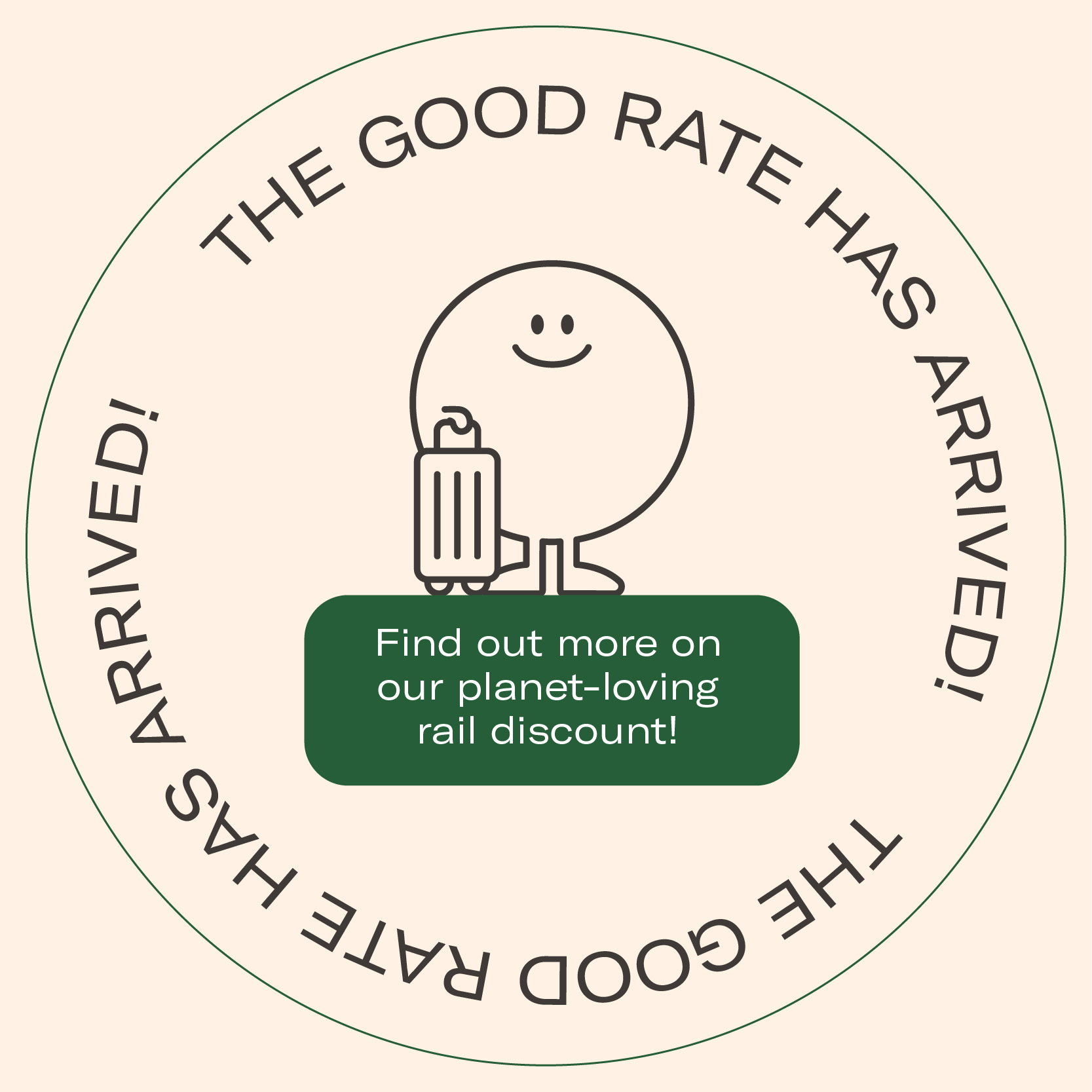 The Good Rate
Get the Good Rate whenever you travel by train between two Hox hotels in the UK and Europe (excluding the London Underground.)
To say thanks for choosing lower carbon travel you can get £20 off your total stay.
Simply flash your train ticket receipt on check-in.

The Hoxton comes to each of our neighbourhoods with an open door and an open mind. With everything you need, and nothing you don't, we're inspired by the diversity and originality of the streets and scenes that surround us.
For latest updates, news and events
thehoxton.com/sign-up
Looking to book again?
You'll be hard pushed to find a cheaper price elsewhere, but if you do, we'll match it.
thehoxton.com
Illustrations by Hedof